Student Box: 13€
Sample content:
0.65 kg potatos
0.10 kg corn salad
0.30 kg onions
0.20 kg cherry tomatoes
0.24 kg bell pepper
0.30 kg carrots
0.80 kg pumpkin
0.80 kg white cabbage

Sample box (winter):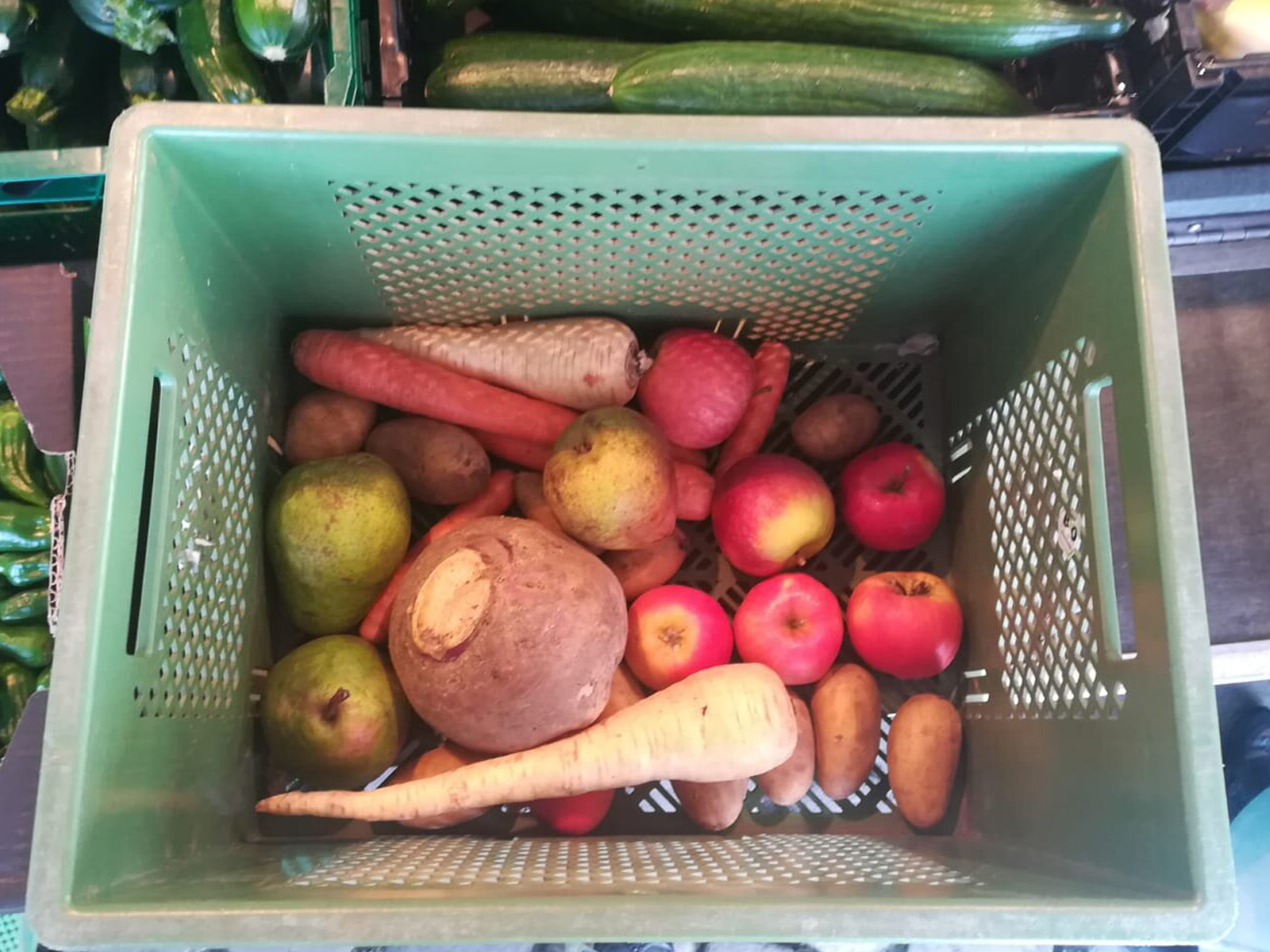 Grüne Kiste
The "Grüne Kiste" of AStA and Weidenhof
The Grüne Kiste ("Green Box") is a box filled with seasonal, regional, and organic vegetables and fruit which is brought to you by the AStA department for sustainability and the Biolandhof Weidenhof. The box offers you an alternative for an ecofriendly and healthy diet that is affordable. You can order the box online at weidenhof.net/gruene-kiste/studi-kiste/ and pay via SEPA Direct Debit. You can pick up your box Friday afternoon from 12pm to 6pm at the organic farmers' market on Domplatz at the Weidenhof stall. You just have to bring your student ID or your certificate of matriculation.
You can order the box until Wednesday 10am and can pick it up on Friday of the same week.
FAQ Grüne Kiste
How does ordering work?
1. You go to the website: weidenhof.net/gruene-kiste/studi-kiste/
You register as "guest and new customer" ("Gast und Neukunde").
In the top left corner you can find "Grüne Kisten", there you select "Studi-Kiste" and put it in your shopping cart-
You enter your data and order the box.
You get further information via e-mail.
Enjoy your fruit and veg!
What does the box contain?
There is no simple answer to that question because every week the Grüne Kiste contains different seasonal fruit and vegetable. Even we don't know what the next box contains. However, a good indication is the season. For example in autumn you can find pumpkin in the box while in winter beetroot and different kinds of cabbage are delivered. In summer you likely find tomatoes and cucumbers. When you order, you can see what and how much will be in the box.
What advantages does the Grüne Kiste offer?
The good thing is that the box gives you an opportunity to be creative while cooking. You have the chance to learn about new vegetables that you maybe didn't know before. The vegetables and fruit are always fresh from the fields. This way it becomes very easy to eat sustainable, healthy, and delicious food.
Can I order the box for several weeks in a row?
This is even the usual case! When you give no further info, the box is ordered weekly (with exception of days when the Weidenhof stall is closed). Of course you can cancel anytime or just place a one-off order. Even longer breaks between each order are possible so you can customize your box according to your needs.
How much is in the box?
Before each order you can see what exactly and how much of everything is in the box. You can also modify this online (This is possible from Friday afternoon  for the following week).