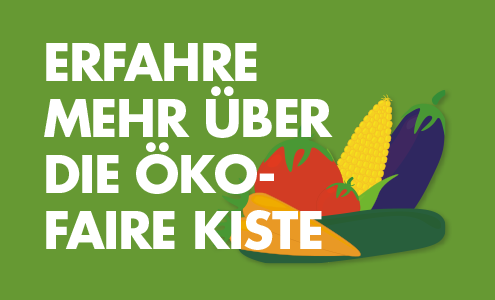 Department for Sustainability
occupied by Mirjam Holle, Lara Niemann and Chris Margraf (all CampusGrün)

This department stresses the relevance of sustainability and ethnically justifiable trading, especially within the university's environment. Sustainability should no longer remain an abstract term, we want to give impulses for a more responsible and conscious consumer behaviour.
For the ecological part of the department, our focus is on an environmentally friendly cafeteria. The desired profile for this cafeteria can be summed up with the words "Ecological! Veggie! Diverse! Fair!". This means, we push for an expansion in the use of organically grown food and regional products. Additionally, we vehemently campaign for a wider range of vegan and vegetarian meal options, also in the university bistros, as well as the switch to 100% fair trade coffee. One of our concerns here is of course to keep the prices reasonable for a student's budget.
We are also advocating for a more sustainable university that permanently turns to renewable energies. The key word in this regard is "fossile fuel divestment". We are also supervising concrete projects, such as the eco-friendly and fair veggie box ("Ökobox"), food sharing, the student garden and events regarding bicycle-friendliness.

The animal welfare part has also established itself as an important component of the department. Here, we concentrate on several main issues concerning animal testing in university research and teaching. For this purpose, a commission on the university rectorate's level has been created with the aim to deal with and examine the transparency and handling of laboratory animals at WWU.
Additionally, this part of the department is also responsible for organizing lecture series about animal testing and animal welfare in research. It also looks more into other important aspects regarding animal welfare, such as the origin of animal products in the university cafeterias.
The department recommends:
Visiting the organic cafeteria in Osnabrück (only accessible in German) 
Reader "Sustainability in Münster" (only accessible in German)
Visiting Times
| | |
| --- | --- |
| Monday | 10.15am - 12pm |
| Tuesday | By appointment |
| Wednesday | By appointment |
| Thursday | 10.15am - 12pm |
| Friday | 11pm - 2pm |
| During the semester break | By appointment |